McGowan's Heating & Air Conditioning is proud to offer high-quality air duct cleaning that will be a great value for our Jacksonville, FL, customers. Air ducts can become dirty over time and need to be cleaned out. We recommend that you get the ducts in your home professionally cleaned every three to five years.

If your home has recently been under construction, you'll want to get the ducts cleaned when the project is done. Clean air ducts can ensure that you have safe and fresh air flowing throughout your home. Having a duct cleaning professional perform the work can ensure that all dirt and debris is removed from the walls of your ductwork.
The Best Jacksonville Air Duct Cleaning Company
There are many benefits to getting your ducts cleaned regularly. It can reduce the allergens and other irritants that are circulating throughout your home and get rid of any odors. By improving the airflow through the ducts, the energy efficiency of your heater and air conditioner can be increased. This can lead to a decrease in your energy bills.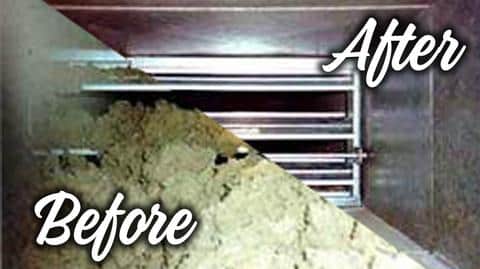 There are several signs that you need to get a cleaning performed

Bug infestation
Microbial growth
Dust in your home
Poor air flow
Our technicians will hook up a powerful vacuum to the ductwork in your home. They'll get all dust and debris removed from the various ducts in your home efficiently and effectively. When they're done, they'll make sure that their work area is left tidy and that all waste is removed from your property.
What Does Air Duct Cleaning Include?
The process of "air duct cleaning" should perhaps be called "HVAC system cleaning," since proper cleaning involves much more than just the air ducts themselves.
A technician will thoroughly clean these components of your system:
Supply and return air ducts and registers
Grilles and diffusers
Heat exchangers
Heating and cooling coils
Drip pans
Fan motor and motor housing
We'll also check your air handling unit to ensure it's properly installed, maintained and operated, which helps keep the above-listed components free of contamination from particles of dust, pollen or other debris.
Trusted Air Duct Cleaning Experts
McGowan's Heating & Air Conditioning is a locally owned and operated company committed to exceeding the expectations of each of our Jacksonville customers. We've been working in the area for more than 40 years, and we understand the importance of getting each job done right the first time. Our office can be found on Phillips Parkway Drive in Jacksonville, and our technicians are ready to help with jobs of any size or scope. We use professional tools to ensure results that we can be proud of. Every duct cleaning will receive our full attention, and we'll make sure that your property is protected. All of our results are backed with a 100% customer satisfaction guarantee.
We charge reasonable rates for everything we do and can give you a cost estimate to review and approve. Our highly experienced heating and cooling technicians strive to earn the trust of our customers.
Our team also offers duct cleaning to residents in:

Give the team from McGowan's Heating & Air Conditioning a call today to learn more about getting the ducts in your Jacksonville home cleaned properly