March 18, 2021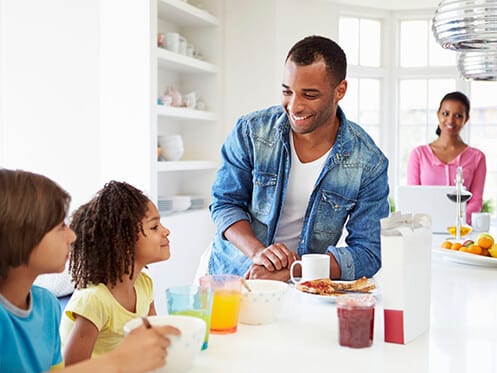 In recent years, ductless mini-split systems have become increasingly popular with homeowners. They are more versatile and energy-efficient than most conventional systems. Why are they so efficient and compact? Here is an outline of how the ductless mini-split system works.
How Mini-Split Ductless Systems Work
A ductless mini-split unit has a condenser unit and one or more air handlers. A conduit with an electrical connection and a refrigerant line runs between the indoor and outdoor units. The conduit carrying the refrigerant coil typically requires a 3-inch hole through the wall.
When warm air runs over the refrigerant coils, the unit transfers the heat to the outdoor condenser. The air is then sent back indoors through the air handler units. In cold weather, the process works in reverse. The condenser can adjust depending on whether it is in heating or cooling mode.
Indoor units typically have a fan and a condensing coil that cycles the refrigerant through the system. You can have multiple air handlers for different rooms in your home. Ductless systems are versatile and do not require an extensive network of ducts.
As a result, they can attain very high levels of efficiency. Most recent models of mini-ductless systems have a SEER value of between 20 and 25. You can find equipment today with a SEER rating of over 30. However, such systems may be too expensive, and the benefits may outweigh the investment.
Since they don't require ductwork, installation is more affordable and offers more flexibility. The compact design also has more options for installation. You can place them on the wall, floor, or ceiling. You don't have to tear down walls or carry out extensive renovations.
Ductless Mini-split Systems Versus Heat Pumps
Ductless mini-split systems and heat pumps work by transferring heat to an outdoor condenser. Both systems do not typically employ resistance heating to condition temperatures. Instead, heat pumps and ductless systems absorb heat energy from the outdoors and transfer it indoors.
However, unlike heat pumps, ductless systems do not need an extensive network of ductwork. Instead, they use conduits to transfer heat to the exterior of the house. That makes them less susceptible to airflow blockages and leaks. It is a better option over a heat pump, especially where a network of ducts would be undesirable.
According to the Department of Energy, duct systems can waste up to 30% of the energy in your home. A ductless mini-split requires less maintenance work than conventional AC systems. A ductless system also requires less space due to the absence of ductwork.
Temperature Limits of Ductless Mini-split Systems
Because they operate on the principle of transferring heat through the refrigerant, mini-split systems have an optimal range. That is to say, they are most efficient within certain temperature limits. The range for most mini-split equipment is approximately between 40- and 55-degrees Fahrenheit.
The temperature limit is critical because cold weather can freeze the outdoor condenser. In places where temperatures go below 40 degrees, a central heating system can serve as a backup. Some of the latest mini-split equipment has a resistance heating element that will activate when it's extremely cold outside.
Fortunately, a backup system is unnecessary for most places in Florida, where the winters are mild. Even if you use your unit as a backup, you will still be saving more energy. If you want to pick the best system for your needs, you can consult the technicians atMcGowan's Heating & Air Conditioning in Jacksonville.
Zoning With Ductless Mini-split systems
With ductless mini-split systems, you can create multiple zones to optimize temperature regulation. You can heat or cool different rooms independently for every air handler you have in the interior. Zoning eliminates cold spots and hot spots by regulating temperatures according to the needs of each room.
For every air handler, there is a thermostat to manage interior temperatures more accurately. There are two types of condensers specially designed for zoning applications. They are the multi-port and branch box condenser.
The multi-port condenser has built-in refrigerant ports to support multiple air handler units. For a few zones, installation is uncomplicated because you don't require additional connections. That also makes them more affordable than the branch box type. It is, however, less flexible and has limited capacity to handle multiple connections.
In situations where it is necessary to have up to eight connections, a branch box condenser unit is ideal. Branch box systems have a higher BTU capacity making them suitable for large spaces. They are more versatile than multi-port systems.
On the downside, they require a sophisticated connection system with more parts. If you are considering zoning, you can consult McGowan's Heating & Air Conditioning for quality solutions in Jacksonville. We have cutting-edge ductless mini-split equipment with infrared monitoring for more precise temperature control.
Ductless Systems Capacity and Sizing Considerations
The capacity of the ductless mini-split equipment is measured in BTUs (British Thermal Units). To calculate the optimal heat requirements, you have to factor in the volume of the space. An assessment of the length, height, and width is necessary before choosing the capacity of the equipment. For example, a 300-foot living space will need a system that can generate 7,000 BTUs.
Additionally, other factors such as the climate are critical when choosing a suitable ductless mini-split system. The building ought to have standard insulation suitable for the weather and region. In Florida, houses built before the 1970s may have outdated insulation around the walls and ceiling.
The room's layout will also determine the capacity of your equipment. Our professionals will also consider indoor air quality factors such as humidity and allergens before installation. [Company_name] has factory-trained technicians who can conduct a thorough evaluation of your Jacksonville home.
When To Choose a Ductless Mini-split System
There are two situations where a ductless mini-split system would be a viable solution. That is where there is no ductwork and where zoning is necessary for comfort and energy efficiency.
In interiors with no existing ductwork, installing a network of ducts would be impractical. As such, ductless mini-split systems are ideal for home additions and extra rooms. Their compact design makes them ideal for small spaces.
A ductless mini-split system is also a suitable option when remodeling unconditioned rooms into living spaces. For areas of your home such as the sunroom, a casita, and the attic, extending your existing system would be too expensive. You can use them in the basement that you want to turn into a mother-in-law suite or a bedroom.
Ductless mini-split systems can be installed in any modern interior where there is a need for convenience with regulating temperatures. You can connect air handlers to smart thermostats that can change temperatures according to your schedule.
Some models have remote and Wi-Fi features, which allow you to change settings while you are away. Because temperature regulation is more accurate, you can save even more energy. A professional assessment and installation are necessary if you want to optimize efficiency and extend the life of your equipment.
McGowan's Heating & Air Conditioning is a certified Mitsubishi Electric Diamond Contractor in Jacksonville. Our NATE-certified technicians can help you choose the best solution for your home comfort. We service heat pumps, ductless mini-split systems, and virtually all models of heating and cooling equipment. Contact McGowan's Heating & Air Conditioning for top-notch services in Jacksonville today.