McGowan's Heating & Air Conditioning can provide your commercial property or business with prompt service and smart comfort solutions at affordable rates. Our Commercial Services Division delivers expert service on heating and air conditioning systems, providing top-notch, comprehensive energy-saving equipment service and replacement.
McGowan's Heating & Air Conditioning's Commercial HVAC Services Include:
Equipment Replacement and Retrofit

From tenant improvements to complete unit upgrades for your business or property, McGowan's Heating & Air Conditioning provides the best value on comfort systems from the most trusted manufacturers in the industry.
Complete System Installation

McGowan's Heating & Air Conditioning's Comfort Consultants will assess your business or building and make recommendations that fit your needs and budget.
New Construction

We make sure the heating and air conditioning portion of your commercial project goes smoothly and achieves maximum energy efficiency.
Preventative Maintenance

Our maintenance agreements help your equipment operate at optimal efficiency and performance, reducing monthly and long-term costs.
Design/Build

Let us design and install the perfect heating and air conditioning system for your new building's long-term comfort and efficiency.
Duct Work

Our in-house mechanical engineers will design the ideal duct configuration for your building.
Trust Our Professional HVAC Technicians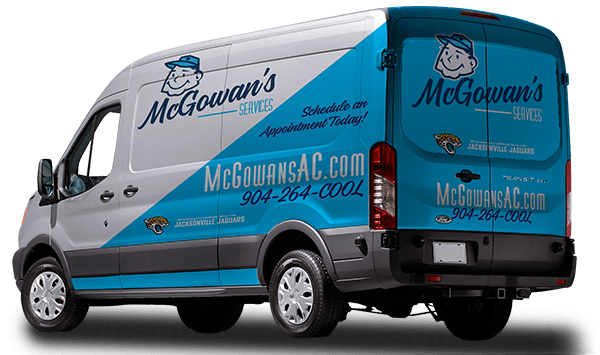 Finding a reliable HVAC company means finding technicians who you can trust your business with. McGowan's Heating & Air Conditioning understands the importance of keeping your business's indoor environment comfortable. After all, when an indoor system stops working, it can set back various aspects of your business. Our technicians are dedicated to bringing high-quality HVAC services and products to business owners in the Jacksonville and Bunnell communities. Our Commercial Services Division will plan and execute valuable HVAC solutions that will bring value and long-lasting results to your business. No matter the size or difficulty of the project, our team will work on your commercial space to maintain efficient operations!
Contact Us Today
McGowan's Heating & Air Conditioning is the team to trust when you need reliable commercial HVAC services. Call our technicians today at (904) 520-4441 to schedule an appointment or submit an online form to get started. We look forward to serving your Florida business!