Get cool this summer with air conditioning installation in Orange Park, FL, from McGowan's Heating & Air Conditioning. When the temperature hits the high 90s, you'll be glad to have invested in your comfort. Just set that thermostat to your desired temperature and let your AC system do the hard work. We offer a range of services under one roof, including air conditioning replacement and air conditioning tune-up. From the moment your system is installed and throughout its lifetime, we'll ensure it gets the best possible service from our team. Speak to our experts today to book in with the service you need.
First For Air Conditioning Installation in Orange Park
Are you ready to arrange an air conditioning installation in Orange Park? Perhaps you're just shopping around for recommendations and estimates right now. Wherever you are in the upgrade journey, we'll be by your side. We'll always align our services and advice to suit your needs and our HVAC team will never pressure you into making a decision. We're more than happy to visit and provide you with a no-obligation AC recommendation and competitive quote. Simply call our team, let us know what we can do, and we'll be there. We can also help with air conditioning replacement, so if your system is starting to show signs of getting old, get in touch. Need an air conditioning tune-up? Book in with our team today.
There are many reasons to consider our air conditioning installation:

Improved reliability and efficiency
Lower monthly energy bills

Reduced carbon footprint
Enhanced personal comfort
Arrange Air Conditioning Replacement the Easy Way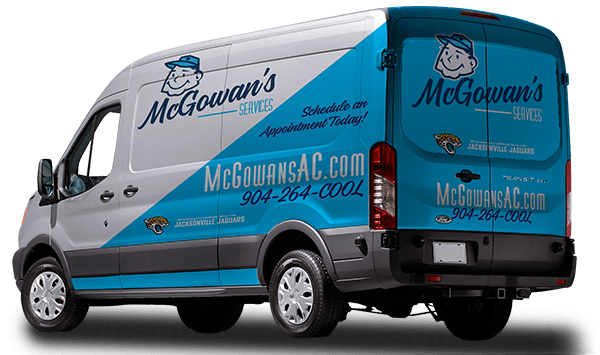 At McGowan's Heating & Air Conditioning, we've been providing air conditioning replacement for over 50 years. Our staff offer exceptional service and have a wide range of skills. It means you can always trust them to carry out all work to the very highest standard possible. We'll work closely with you to help you choose a new system that serves you and your family well for many years to come. We can also help you with air conditioning maintenance. Booking an air conditioning tune-up will help you to protect your system from faults and keep your energy bills lower. We'll inspect your system and carry out a comprehensive checklist of tasks and checks. Once completed your system will work optimally and give you the best performance over the summer months. Don't leave your comfort to chance, not when you have a team like ours at your side.
For air conditioning installation in Orange Park that you can depend on, speak to the experts here at McGowan's Heating & Air Conditioning. We'd be delighted to extend our services to you today.
Not looking for AC installation or maintenance? We also provide expert AC repair.