Have you ever turned on your air conditioner to discover it wasn't working right? Chances are you could have avoided this with an air conditioning tune-up and didn't even realize it. Rather than wait until the weather really starts to warm up, you should think about scheduling an AC maintenance in Bunnell, FL visit with us earlier. The best time to have your AC inspected is right after the winter months, usually during March and April. While most people tend to ignore their air conditioner when it seems to be running properly, scheduling an annual maintenance visit is a great way to prolong its life.


McGowan's Heating & Air Conditioning in Bunnell is here to help with your AC maintenance. From Moody Homestead Park to the Bunnell Water Tower, we are proud to serve the entire area.
Best Bunnell AC Maintenance
It's easy to not think about your air conditioner when everything seems to be working right. However, things can quickly get worse when neglected long enough. That's why scheduling a regular maintenance visit with us is a great way to know of any potential problems ahead of time.
A maintained AC will far outlast one that is used year after year without a tune-up. Better yet, by having an expert take a look at your cooling system, you can expect to spend less money on repairs and energy bills. When our crew comes out, we'll inspect every aspect of your AC to make sure it's running at its best. If there is a problem, you'll be the first to know. We'll also clean and lubricate moving parts and can replace dirty air filters.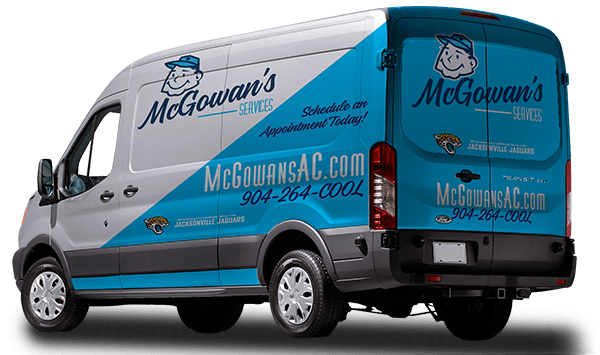 There are many benefits when you schedule an air conditioning tune-up.
Save more on repairs
Longer lifespan
Improved air quality
Lower energy bills
Peace of mind
Expert Air Conditioning Tune-Up
For over 40 years, McGowan's Heating & Air Conditioning in Bunnell has been helping families and businesses like yours stay comfortable no matter how hot it gets outside. As a family-owned and -operated business, we guarantee every job will be done to your satisfaction. You can rest assured knowing our technicians are NATE-certified, which means there isn't a maintenance visit they can't handle. Better yet, we're also a BBB-accredited and A+ rated company.
When you call us for an AC maintenance visit, you can expect operating hours that are convenient for you, along with an easy scheduling process. We make it our task to work with you. We guarantee that our crew will provide the best customer experience possible. Plus, you can trust us for reasonable rates for the job.
When your air conditioner needs some extra attention, we're here to help. Rather than wait for the weather to warm up, give us a call now to schedule a maintenance visit!

Sometimes your AC needs more than a regular tune-up. That's why we also offer AC repairs and installations. Not interested in an AC tune-up? We also provide expert heating maintenance.