March 2, 2022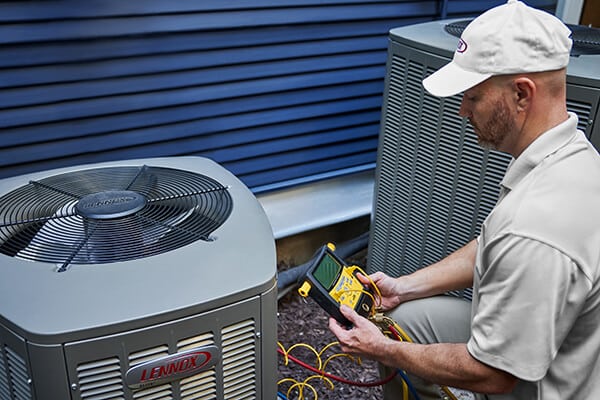 Hiring a professional contractor is the only way to know if you are getting what you paid for. Your home's comfort and efficiency rely on the mechanical system inside your walls. Often, a homeowner can't tell when things begin to go wrong. This is where hiring a professional becomes necessary. Just as you wouldn't trust just anyone to do your taxes, you shouldn't trust just anyone with your HVAC system. Learn more about the benefits of hiring a licensed HVAC contractor.
1. Guaranteed Workmanship
A licensed contractor must perform work that meets the standards set by the licensing board. The license will require them to back up their work with a warranty in many cases. In addition to the manufacturer's warranty on your equipment, the contractor will offer a workmanship warranty on their installation. If your system doesn't perform as agreed in the contract, they will fix it at no additional cost within the specified period.
2. Better Equipment Selection
Licensed contractors have years of experience installing and maintaining multiple types of HVAC systems in all kinds of homes and businesses. They know what types of systems work best in different situations and can recommend an energy-efficient unit that works for your home's unique layout. Licensed contractors can also access quality parts and equipment from a trusted network of suppliers.
From their experience, they have access to parts that are not available at hardware stores or online retailers such as Amazon. Additionally, licensed HVAC contractors have all the tools necessary to complete your project correctly. It's not only more convenient to hire a contractor who already has the tools he needs, but it also means you won't have to spend money on equipment for just one job.
3. Lower Utility Bills
A licensed HVAC contractor will know how to cut down on wasted energy in your home. It could include installing high-efficiency equipment and adding insulation in areas where needed. A more efficient system will lower heating and cooling costs by 20% to 50%. It can also improve indoor air quality while reducing wear on your system, extending its lifespan.
In some cases, a system may need to be replaced sooner than necessary because it wasn't cared for properly. A licensed HVAC contractor can help ensure the long-term health of your system by providing regular maintenance services such as cleaning coils, changing filters, and lubricating motors.
4. Quality Services
HVAC contractors are trained and licensed professionals who know how to size, design, and install heating and cooling systems. They are trained in proper handling techniques, ensuring that your system is installed properly and functions efficiently for years to come. They also keep current on industry regulations and standards. What's more, local building codes govern the installation of HVAC systems. Often, unlicensed contractors may not be aware of these codes and how they apply to your project.
Licensed contractors meet your needs while remaining compliant with these codes. Also, for an HVAC contractor to maintain their license, they must continue their education by participating in ongoing training provided by their employer or professional trade organization. It ensures that they stay informed on all current industry regulations and standards and know how to apply these to your specific situation.
5. They Are Insured
A reputable HVAC contractor should have liability insurance, workers' compensation insurance, and auto liability insurance. Some states might require them to carry a bond as well. It means that if something does go wrong with the work, you will be protected from any liabilities.
The insurance also covers you for any injuries or damages that may occur during the project. An HVAC contractor without insurance will not only cost you more money down the road but will also put your home and family at risk.
6. They Provide a Detailed Contract
Licensed HVAC contractors provide detailed contracts that delineate their scope of work and their responsibilities. This protects clients from any misunderstanding that might arise during the project. A detailed contract also helps clients to avoid future conflicts with contractors by providing a clear guideline for resolving disputes should they occur.
Their contracts include everything from regular maintenance to emergency repair services, so you don't have to worry about anything once they're done installing your heating and cooling system. On pricing, the contractors give you an estimate of how much it will cost, so you won't have to worry about hidden costs. They also provide you with upfront pricing based on your needs.
7. Affordable Financial Plans
Many licensed HVAC contractors are now offering more affordable financing options for their customers. It means that you could be able to get financing for your new system anytime you need it. You can get a great deal on installing or replacing your HVAC system without sacrificing quality. The contractor will help you find the best options to fit your budget and needs.
Financing should not hinder you from installing that heating or cooling system. In Jacksonville or Burnell, visit or call our licensed technicians at McGowan's Heating & Air Conditioning. We offer a variety of financing options. We also provide special maintenance plans and warranty policies, and we have a range of cooling and heating system services and products.
8. They Have Professional Experience
When you hire someone with professional experience, you know they will do the job right the first time. These contractors have worked on all kinds of systems in all types of homes. It gives them experience and knowledge that you can't get by simply reading an owner's manual.
It saves you time and money in the long run because you don't have to worry about redoing work if it is not done correctly. Additionally, when something goes wrong with your HVAC system, a licensed contractor can diagnose the problem quickly, saving you time and money. In addition, they can advise on future repairs or maintenance that you might need before issues arise.
9. Reliability
A licensed HVAC contractor is reliable when you need repair services if your heating and cooling system stops working correctly. Most of them offer 24-hour emergency service repairs, so you can call them as soon as possible to fix the problem. They also provide routine maintenance checks to ensure that everything is working fine before the heating or cooling season. By hiring a licensed HVAC contractor, you can rest assured that your system will always be in good condition to guarantee safety for you and your family.
At McGowan's Heating & Air Conditioning, we are dedicated to providing exceptional service for all of our customers. We are licensed professionals who use only the best equipment and materials to ensure that our work is of the highest quality. We have been providing reliable heating and cooling, HVAC design, attic insulation, indoor air quality, and ductwork services in Jacksonville, Bunnell, and surrounding Florida communities for several decades.
Contact us at McGowan's Heating & Air Conditioning if you require a dependable HVAC contractor in northeast Florida and the surrounding areas.